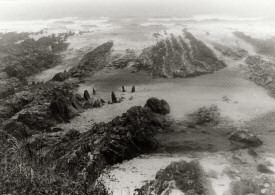 Photographs from around the Devon coast, capturing the romance and honesty of our favourite time of year at Drift, the dead of winter. Shoshanna Bowles explains.
I began to realise there was something quite special about the cold, hard British surf coast but only after I started photographing it did I realised this.
I always ventured down to the Devon coast to escape into surfing, making the best of the winter we experience. Most of the time I'm battered by a cold wind, while struggling out of my wetsuit off and wishing for a warmer climate. But this brutality defines us and our coastline as uniquely British.
These photos take in the Devon coastline as it is, granular, cold and at times a little bit spooky, but at the same time sublime and beautiful.
When I'm photographing Devon I always use film, in particular in the bleaker winter months. Film seems to allow me to bring the subject to life with my own style. By using black and white stock, and adjusting the exposure time down, I find I am able to capture a very honest portrayal of our coast. These photos are from a series exploring the struggle and passion of surfing in these austere months; contrasting the beauty that is uniquely ours.
I don't believe it was a conscious decision to start surf-related photography, the ocean is one of my loves and the majority of my work has some relationship with the coast and ocean. Visit my web site here.