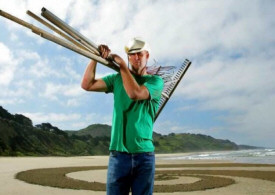 Surfilmfestibal are hosting an event this Saturday, September 3rd, within the frame of our project to support surf culture on the Cantabric Sea: The Amstel Surfari.
Denevan's work is a true environmental manifesto, which will capture the imagination of the onlookers at the river-mouth which allows this wave to break; a unique jewel on our coastline.
He will start drawing around 10.30 am, and he will finish at low tide at 14.58. The majestic work will start to disappear the moment it is finished, covered by the rising tide, vanishing completely at high tide.