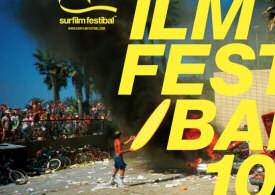 The tenth Surfilmfestibal in San Sebastian will be held this summer from May 31st to June 10th. Here's a sneak preview of what's on.
The official program will be unveiled wednesday May 30th, but here's some idea of what's on.
This year there will be a pretty cutting edge program, some of the best international surf films, up and coming local filmmakers, and a new killer concept!
Extended Vision is a series of masterclasses and collaborative short film shooting with IPhones. Jack McCoy, Keith Malloy, Kepa Acero and Igor Bellido will share some of their secrets of making a good surf film. followed by four hours of filming in La Zurriola Beach, four directors, four groups of students, four hours of editing and Voila! This project is curated by Juan Azpitarte. Reserve your slot quickly as there are very few places available.
The festival kicks off on the 31st May at 20.30, with a double program of Surf + Skate in the Trueba Cinemas, the Spanish premiere of Skatistan and another very special title which will be unveiled soon. On Friday 1st June, there are screenings of HUGE SURF: paddle vs tow then FUTURE, at the Aquarium.
On Saturday June 2nd the festival returns to the Guardetxe, for an evening of films, art, music and food. This magic space overlooking Donostia hosts Kutxa Gaua, from 18.00pm JapaNing, a project curated by Kurando Shogi that brings a slice of the freshest Japanese surf culture, then the premiere of Gastrologging.
For more information please visit the official web site or read our feature about last year's festival here.